Minum Barreng: The Story of the Indigenous Eye Health Unit
A book based on the Indigenous Eye Health Story
SKU
Minum Barreng: The Story of the Indigenous Eye Health Unit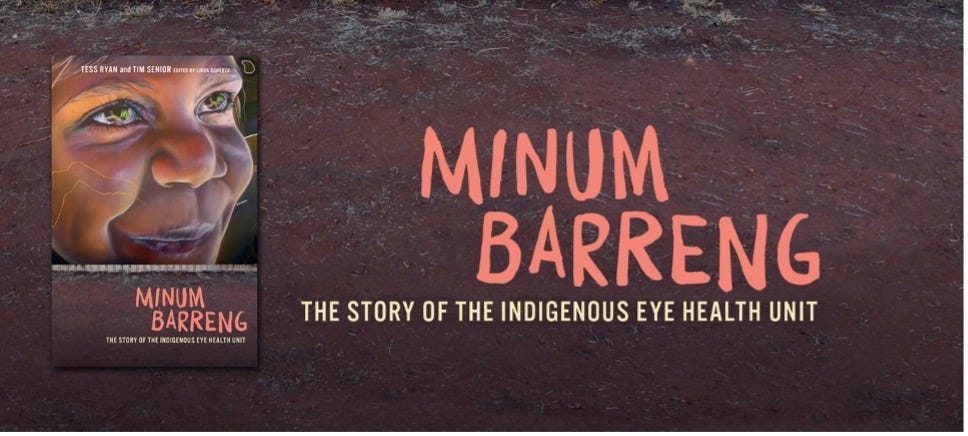 Minum Barreng: The Story of the Indigenous Eye Health Unit
By TESS RYAN and TIM SENIOR EDITED BY LINDA DOHERTY
Aboriginal and Torres Strait Islander children have the best eyesight in the world. Yet by the age of 40, Indigenous people in Australia were six times more likely to go blind from preventable diseases than non-Indigenous Australians. Things happen during the life course to make vision loss increase, and many of these reasons can be traced to a lack of care, a lack of access to care, and the impact of colonisation. Minum Barreng: The Story of the Indigenous Eye Health Unit shines a light on the determined team who have worked with Aboriginal and Torres Strait Islander peoples since 2008 to prove that Australia has the will, the means and the moral obligation to close the gap in this serious health inequity. This is a story of vision in both senses of the word—and of strength and opportunity.
Delivery Information
Pick Up
This item will be available for collection via Faculty of Medicine Dentistry and Health Sciences at Indigenous Eye Health Unit, Level 5, 207 Bouverie Street, Carlton VIC
Delivery
For in-stock items, where shipping applies, you will require to provide your shipping details at the time of checkout to have an accurate delivery estimate. Please allow a minimum of 24 hours to confirm the shipment details.